| | |
| --- | --- |
| | NOW AVAILABLE: Powering Through – From Fragile Infrastructures to Community Resilience (1st Ed.) |
PLEASE NOTE: We are pleased to announce that, per InfraGard National Board approval, as of May 2019 the InfraGard Electromagnetic Pulse Special Interest Group (EMP SIG) has been renamed to the National Disaster Resilience Council, a cross-sector initiative of InfraGard National.
Due to this name change, website material and some domain name access will likely change over the next several months. Thank you for your interest.
---
Welcome to EMPCenter.org!
The EMP Center website is the main web resource for the InfraGard Electromagnetic Pulse Special Interest Group with a mission of providing information, education, and actionable information relating to high impact, long-term threats such as those posed by solar weather, nuclear and non-nuclear EMP, cyber attacks on critical infrastructure and more.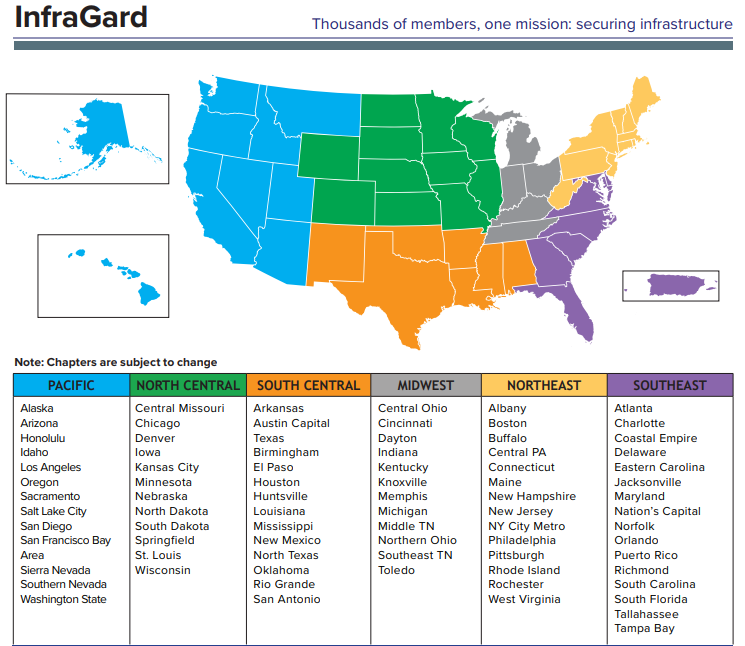 Currently, the InfraGard National EMP SIG is also made up of local chapter based EMP SIGs and regional organizations that mirror the InfraGard regional structure:
[Active] Northeast Region – Maine, New Hampshire, Vermont, New York, Massachusetts, New Jersey, Rhode Island, Pennsylvania, West Virginia
[Active] Southeast Region – North Carolina, South Carolina, Delaware, Tennessee, Maryland, Virginia, Georgia, Florida, Puerto Rico, St. Thomas, St. Croix
[Forming] Midwestern Region – Ohio, Tennessee, Kentucky, Michigan, Indiana
[Forming] North Central Region – Missouri, Illinois, Colorado, Iowa, Kansas, Minnesota, Nebraska, Wyoming, North Dakota, South Dakota, Wisconsin
[Forming] South Central Region – Arkansas, Louisiana, Oklahoma, Texas, New Mexico, Idaho, Alabama, Mississippi
[Future Plans] Pacific Region – Washington, Oregon, Nevada, Arizona, Montana, Utah, California, Alaska, Hawaii, Guam
The national and regional EMP-SIG organizations are also extended to local InfraGard EMP-SIG groups directly attached to the local InfraGard chapters, including:
North Carolina – Charlotte, Eastern Carolina
Virginia
New York – New York
Illinois
Colorado
Texas
Indiana
New Hampshire
Please Note: This page is currently a work in progress so please be patient as we configure and upload data to the site. There are additional organizations and regional entities in the process of forming; please continue to check back for updated information.